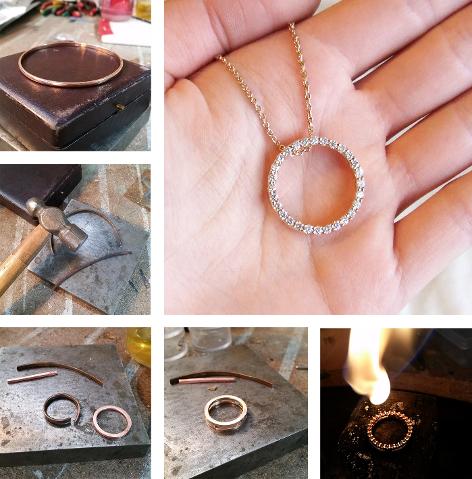 Above is an example of a recent remodel undertaken by Sarah Green. She took the client's antique rose gold bangle and used traditional hand making techniques to transform the metal into a pendant which new diamonds were set into and threaded on a new chain to create a 'circle of life' design necklace.
The fantastic thing about quality jewellery is that is is re-workable and recyclable. If you have existing jewellery that you don't wear or have outgrown emotionally or aesthetically, Sarah Green can take the elements apart and rework the materials to create something new and updated. The best materials to work with are 18 carat gold and diamonds but 9 carat gold, sterling silver and coloured gemstones can also be reworked. Sarah is a diamond and gemstone setter as well as jeweller so your piece will be made from start to finish by her meaning your ideas will not be lost in translation and your treasured materials will be treated with care and respect.
If you have pieces of jewellery you no longer wear but are unsure of the design you'd like, quite often your materials and gemstones will lend themselves to certain styles which Sarah can help guide you through to come up with a design you'll fall in love with all over again. Alternatively, if you have seen a design you love but your materials might not be ideal for this design Sarah can work her magic to make something as similar as possible come about. The overarching idea is to help you to stop hiding what you have away in a drawer and make it into a piece of jewellery to give you happiness, express how you're feeling now and for you to be proud to wear once again!
The remodelling process is very similar to ordering a custom made piece. The first step is to work out what you would like, and what you have to work with then contact Sarah Green here to get the ball rolling.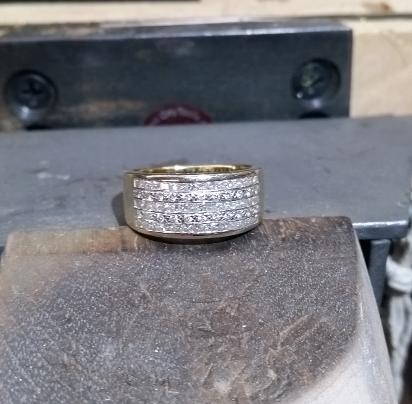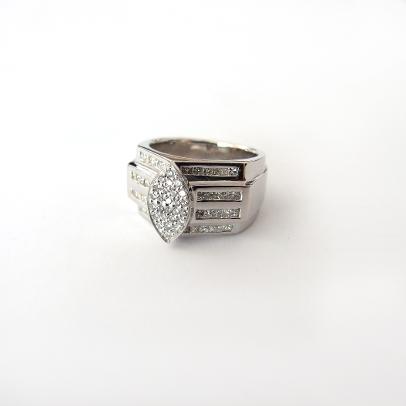 Above is another example of a recent remodel by Sarah Green. She took her customer's existing eternity ring, removed the diamonds and after close consultation with her customer designed and created this new ring which utilises and show off her diamonds to their full effect in a unique style.