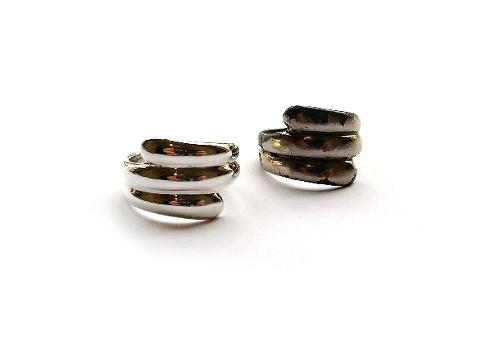 A recent example of reproduced piece of jewellery above.
The customer's original ring (right), and the new reproduced piece in Sterling Silver (left).
Do you have a piece of jewellery you love but has worn out? Or had a beloved piece of jewellery that was lost?
A service Sarah Green Fine Jewellery provides is jewellery reproduction whereby Sarah copies a piece of existing jewellery in higher quality materials to make it stronger and longer lasting, or recreate a lost piece of jewellery from photographs.
For example, you may have cheap piece of costume jewellery that you love and wear every day but which has lost it's layer of shiny plating and looks black and rough, or it may be the wrong size but can not be changed. Sarah can remake the piece in Silver or Gold so that it can be worn for many years to come looking better than ever. She can either hand craft it to match or make a mold of the piece and have it cast to create an exact replica.
If you'd like to have a piece reproduced, the first step is to contact Sarah Green here for a no obligation quote to get the ball rolling!