RE-POLISHING AND RHODIUM PLATING
Bring your special pieces back to life again with re-polishing and for your white gold and diamond pieces, rhodium plating.
The re-polishing service includes a thorough cleaning, carefully removing dents and scratches in the metal's surface, then polishing to a high shine. If your piece of jewellery had a matte or textured finish this can also be refreshed to make your pieces look like new again. If your piece has diamonds or gemstones set into it, Sarah will check to ensure they are tight and in place and retighten if needed.
Rhodium plating service is intended for 9ct, 14ct and 18ct White Gold and some Sterling Silver pieces. It can also be applied to yellow gold pieces too if desired, to temporarily make your yellow gold look like white gold. The rhodium plating service includes the same steps as repolishing but with the added step of electroplating the white bright metal of Rhodium on to the surface of your pieces.
To have your pieces re-polished and/or rhodium plated contact Sarah for a no obligation quote and inspection, most pieces can be returned to you within 1 - 3 days or Sarah will advise at the time if longer is needed.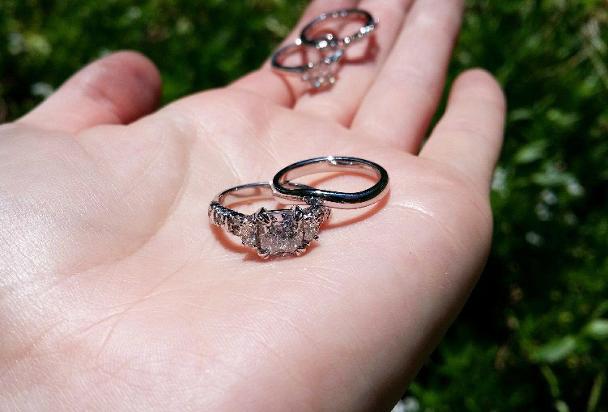 Some freshly polished and rhodium plated rings in the sunshine!